Spit Roast Hire in Newcastle
For those of you that want to roast. Hire your spit roast in Newcastle from BBQ Bob and D I Y Hire.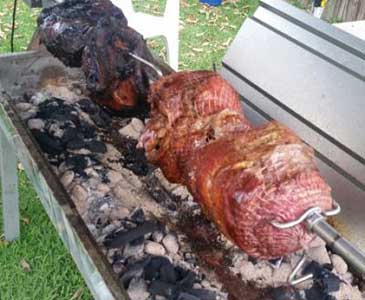 This is a great budget option.
We have a simple spit roast hire in Newcastle that we can provide and hire to you.
It will cater for a party of people of around 50 for as little as $100-00 for the equipment hire.
Spit Roast Hire in Newcastle has never been so easy.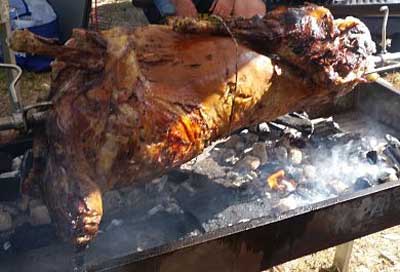 • 240V rotisserie motor with a stainless steel 1 piece shaft
• CHARCOAL OPERATED ONLY. WE CAN SUPPLY QUALITY FUEL FOR $48 PER box (approx 20kgs Charcoal needed) Cooking length approx 1.6 MTRS long.
• A Great Party Alternative as D I Y is so easy
• $100-00 Pick up or add $30 for Delivery... You return or we pick up for $30.
• PLUS $30.00 refundable cleaning bond
We can supply the following tender meats and Salad that can be provided on request:
Full Pig or Full Lamb
Butts of Beef
Chickens and Turkeys
Spit roasted Boneless Ham
All at very reasonable prices
We can also put the meat on and show you how to cook the beast… (Conditions Apply)
Salad Lists (Prepared daily):
Coleslaw
Pesto Pasta
Potato Salad
Cous Cous Salad
Pasta Salad
Greek Salad
Sweet Chilli Noodle
Tabbouli
Shredded Coleslaw
Egg and Bacon Potato Salad
Bombay Cauliflower and Potato
Broccoli and Almond Salad
Roasted Root Vegetable

Call now and book your Spit Hire.