BBQ Catering Options
If you looking for BBQ catering options, look no further that BBQ BOB catering.
Our BBQ catering options will astound you to no end providing quality food for any function.
Read more about our BBQ catering options and decide which option is best for you.
But remember to book ahead! Head is the word!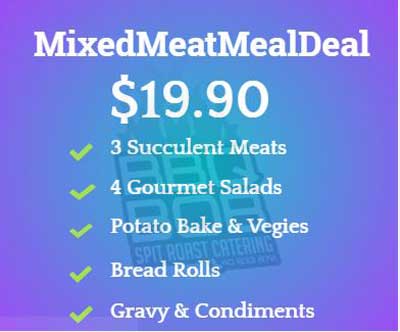 How does BBQ BOB'S Catering Service work?
It's very simple... we have different cuisines and different themes now. Spit roast meats and Street food are the go…
These are the BBQ catering options... they are in the budget for all... Whatever your event is whether it be small or large function, we can cater and assist you in all types of your catering and food needs.
Our Spit roast meats cooked on Charcoal are to die for.
If it's not on the simplified menu, contact us and we can organize exactly what you want. Finger Food is also available…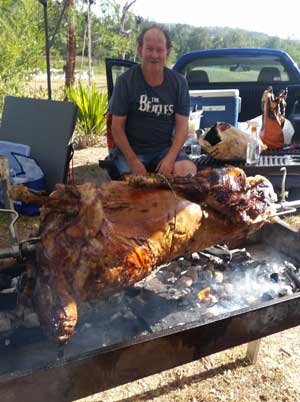 Here's what to do ...
1. Determine the amount of people for your party.
2. Pick the menu items you would like to serve your guests.
3. Choose one of the options below.
4. Email This email address is being protected from spambots. You need JavaScript enabled to view it. to place your order and/or ask any questions.
Small Pick-up (20 person minimum)
Call ahead to order your BBQ for pick-up, served in catering containers. Great for a small party... Refer to the Mega Meat deal. Is great for $500 delivered.
Delivery ($500 minimum food order)
We will deliver to your home, office, or just about anywhere in Newcastle, Wallsend, Nelson Bay and Raymond Terrace.
All delivery orders are bulked up and served in sturdy catering containers.
We do not deliver individual orders.
Full Service* (maximum 150 guests)
Suitable for Weddings, Birthdays, Corporate Functions or anything that involves food. This is ideal for outdoor events.
Our team of catering professionals will set-up, serve, tear down, and clean up.
We bring buffet tables, serving dishes, buffet linens, disposable plates and disposable cutlery and napkins. (An additional $295.00 full service fee will be applied).
Cook on Site* (minimum 75 guests)
Full service for a party BBQ plus a Grill master that will prepare your BBQ on our BBQ grills.
You may join in or let us prepare the whole (additional charges will be applied) depending on your requirements.
Event Center* - Have your event at our place
Call our catering department today for more details.
We have numerous sites specializing in outdoor events as we are the outdoor specialists in Newcastle, Port Stephens, Wine Country and the Central Coast.
Off-Site Bar Service*
Liquor, beer, and wine service packages available.
A two week notice is required for licensing purposes.
Contact us for more details.
Disposable plates, utensils, napkins, and wet-napkins provided at no additional charge. Prices subject to change.
For Corporate Event services, Full Service and On-Site Events we require confirmation of final guest count and menu, no later than 72 hours prior to event dates.
PLEASE CALL 0431 733 481 TO DISCUSS OUR CUSTOM CATERING OPTIONS.
BBQ BOB, has many corporate catering customers during the year with its all new succulent 2017- 2018 menu specializing in gourmet foods and treats that will have everyone salivating.
So if it is a corporate event, a Christmas party, Staff Party, Customer Sales Party or any Party for that matter, let us help you select the menu.
You will be surprised in our service, somewhat with an American Feel with Baby Back Ribs, Corn on the cob wrapped in Bacon, Slaw, and Jacket garlic potatoes delivered free to your door.
All menus are available for corporate functions or make your own up from the Menu list and email it to us.
We can adapt any menu to suit your needs including our buffet to your door.
We have extensive experience in catering for corporate entertainment, office parties, product launches, conferences and training days at venues throughout Australia.